Glenn Barr was raised in the Midwest, USA. This working class environment engrained in him a strong work ethic and an affection for B movies, B culture, local music & dark bars. Born in Detroit, Michigan, and living throughout its metropolitan area, he graduated from the College for Creative Studies and went on to establish himself firmly in the art world.
Back for his 4th RUN,  we are excited to bring the never before seen image Alien Bride from Detroit artist  and 1xRUN regular Glenn Barr. Blending his surrealistic comic worlds and a penchant for the inter-spacial, Barr's latest definitely warrants a second look. Read on below as we sat down with Glenn Barr to talk past influences, current artists  he's digging and much more in the latest 1xRUN Thru Interview below…
1xRUN Thru Interview
Alien Bride by Glenn Barr
1xRUN: Tell us a bit about the original piece, when was it created?
Glenn Barr: The original was painted on found wood in 2011. I think it was at the curb of a home that was dismantling a wall or cabinetry in their garage… this wood was all gnarly, old and beat up. It had lots of personality… I cut it to size. I sanded and gessoed the wood. I then transferred a photo copy of the drawing onto the wood using chalk and painted it in acrylics. If you look closely at the print you can see the wood grain peaking through.
The "Alien Bride" has never been exhibited. It was a commissioned piece and went right to the patrons home when I was finished. One of the owners of 1xRUN owns the painting.
1xRUN: Tell us how the idea and execution of this piece came about?

Glenn Barr: The "Alien Bride" was conceived one evening in a late night drawing session in my sketch book… I wanted to visualize the dichotomy of scale with the female form and include a large "not of this Earth" figure … this came about in a stream of consciousness like thought process … kind of letting the pencil flow about the paper and then pulling out an image once there are enough lines on the page… in doing this you can create a very energetic drawing.

1xRUN: How long did the piece take?  What is unique about this piece?
Glenn Barr: I worked on the painting off and on for a month or so. I don't remember painting an alien before. I mean I've done it commercially in editorial illustrations and comics… but I don't recall doing anything like this… it was really fun.
1xRUN: Why should people buy this print?
Glenn Barr: The print will only be offered for a week and then, if there are any left, like say "artists proofs" they will be considered a rarity and will have a higher price tag…
1xRUN: Describe Alien Bride in one gut reaction word.
Glenn Barr: Fantasmical.
1xRUN: When did you first start making art? What was your first piece?
Glenn Barr: I can't recall my first piece. When I was 4 yrs old I began to draw a lot of cars … probably because my Dad worked for GM as a designer.
1xRUN: What artists inspired you early on?
Glenn Barr: Comic artists at first, though in our house we had a lot of art books, like Picasso, Rembrandt, Rivera, Sargent, Sheille, Eakins, Shahn, Warhol, Dali, Museum collection books, and there was MAD Magazine … and then I discovered paper back novel illustrators and THAT really got me going … I loved all the artists in the 60's and 70's Playboy Magazines as well…
1xRUN: What artists inspire you now?
Glenn Barr: I'm always looking at my contemporaries … they always inspire me to look ahead and NOT paint the same thing over and over like a lot of artists are doing now a days… I feel I need to keep changing and growing as an artist and take my work to the next level.
1xRUN: Do you listen to music while you work? If so what? If not then what is your environment like when you work?
Glenn Barr: I listen to a lot of different kinds of music while I paint. Also, when I get sick of my play lists which happens frequently, I'll put on a DVD so that while in the studio it'll inspire me to put the atmosphere of a film into a painting…
I think I had "The Fall of the Roman Empire" playing when I painted the "Alien Bride"… ha
1xRUN: If you could collaborate with any living artist who would it be and why?
Glenn Barr: I think Dave Cooper of Ryan Heshka would be fun styles to work with… like, we could exchange drawings and paint each others images in our own styles. That'd be a alotta fun.
1xRUN: If you could collaborate with any deceased artists who would it be and why?
Glenn Barr: Diego Rivera comes to mind as I'd love to paint a super large mural with super stylized figures… Every time I'm at the DIA I HAVE to go to the Rivera Court to look at his mural… it's VERY inspiring.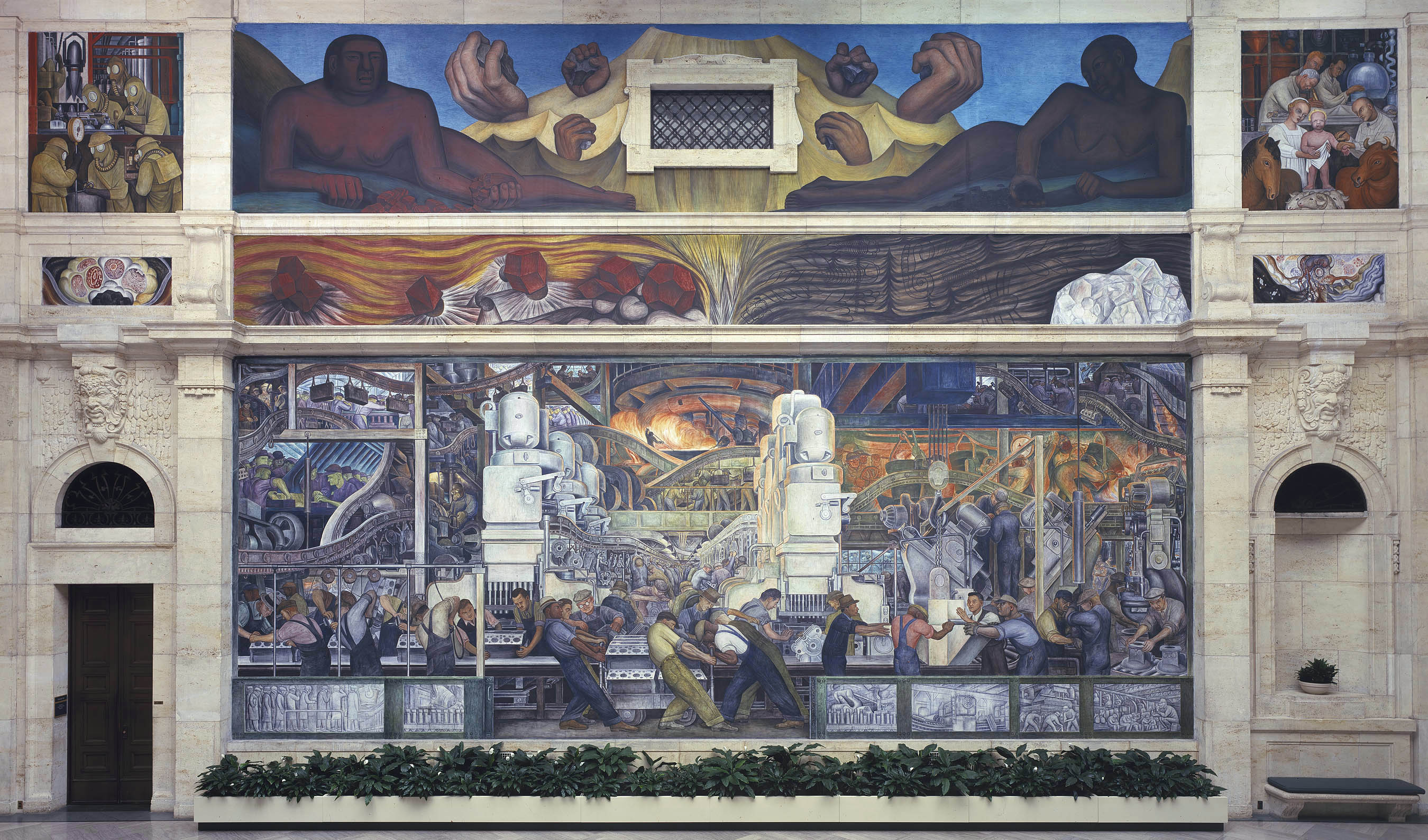 1xRUN: What was the first piece of art that you bought? Do you still have it?

Glenn Barr: I bought some old men's magazine illustrations at a comic convention when I was very young… and I still have it. They're a fantastic testament to the talent that was considered "throw away" art by the art elite… now those same illustrators vintage work is very sought after now and goes for big bucks… that's why I have little stock in blue chip galleries that hawk the wares of unknown conceptual artists for big $$… that work doesn't speak an audience without a long explanation as to why it exists. 
1xRUN: What was the last piece of art that you bought?
Glenn Barr: I traded some work with Mark Dancey a few weeks ago. It's hanging in my studio. It's very cool.
1xRUN: What else do you have currently in the works?
Glenn Barr: I'm working on a small solo exhibition for the Cotton Candy Machine in Brooklyn NY owned by the artist Tara Macpherson. The show is called Detroit Rooms and will open on September 14 – paintings, drawings and prints.
1xRUN: Where can people find you across the internette?
Glenn Barr:  Website – Facebook –
-1xRUN